The Devils Between Us Plays at KU Theatre Dec. 3-9
---
Lifting Up Trans Voices, Sharing Stories of the LGTBQ+ Diaspora
Any time a play tackles issues facing transgender people, you know it's either an important script, sensationalistic, or worse, "trauma porn." Rest assured, the University Theatre's next production, "The Devils Between Us" focuses on uplifting LGBTQ and trans voices of color with the appropriate casting and care for challenging subject matter. The play will open Dec. 3. What makes this work unusual? 
"In 'Devils,' Latifa walks into the play not as someone unfinished or irreparably damaged by her past. Instead, when she returns to her hometown, she seems to have been the only one who has done the work to grow, change, and begin to love who she is," said Cara Hinh, the director. "Something great that Sharifa Yasmin, the playwright, has done in this script is that she has shown how the people who have the most privilege, who have societal positioning and leverage like George, a white cis middle-class man, can make the decision to instead trap themselves into a world where they can't express or be who they want in order to maintain the status quo of patriarchal power."
The playwright Sharifa Yasmin, via Zoom and in person, has collaborated with guest director Hinh and the cast on revising portions of this original script, which is having its university premiere at KU. 
With the help of casting director Charlie Hano, KU Theatre hired an Arab-American trans person, a professional actor, writer, musician and performing artist named Elle Walker.
Four rehearsals set aside for cast members to learn from intimacy choreographer Jenise Cook.
Post-show talkbacks, Dec. 3 and Dec. 5, and a pre-show discussion, Dec. 4, are scheduled to augment the experience and expand on the show's themes.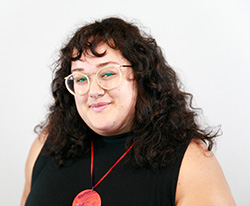 Plus, the play might just alter the way you perceive transgender community members, individuals who practice Islam, or both. 
Yes, there is anger and regret portrayed in this work, but there is also a sense of hope and fulfillment, Hinh said. Yasmin's writing takes audiences into rural South Carolina where a trans Muslim woman, Latifa, returns to her hometown for her estranged father's funeral and reunites with her teenage lover, George.
The play will be performed Dec. 3-9, excluding Dec 6, in the William Inge Memorial Theatre at Murphy Hall. The Dec. 5 performance is at 2:30pm. All others are at 7:30pm.
Post- and pre-show discussion schedule:
Dec. 3, post-show: a meet-the-playwright conversation between Yasmin and Hinh will focus primarily on centering trans voices. 
Dec. 4, pre-show: discussion about LGBTQ+ themes starting at 4pm in Murphy Hall, Room 354.
Dec. 5, post-show: panel features leaders from KC Transformations. 
All post-show panels will be held in the Inge Theatre. (Dates subject to change.)
Tickets for "The Devils Between Us" are available for purchase by calling 785-864-3982, visiting the University Theatre Ticket Office in Murphy Hall, or online through The Devils Between Us.
This play includes sexual themes and descriptions of violence against the LGBTQ+ community. For more information about the content of the play, please visit The Devils Between Us.
Hinh is a queer, fat and mixed Viet American director and educator originally from Indiana. As the child of a refugee, they are drawn to work about and for people of the diaspora that expands the ideas of American identity. She rejoices in work that speaks to the complicated and messy intersectionalities of holding a multiplicity of cultures and identities. Cara is a 2021-22 Drama League Hangar Fellow and a proud member of the Roundabout Directors Group. For more, visit carahinh.com.
Walker (she/her) is an actor, musician, and performance artist based in Chicago and represented by Paonessa Talent. Chicago stage credits include: Madge in "Picnic" (American Theatre Company), Gavriella in "Mosquitoes" (Steep Theatre), "Cinderella at the Theatre of Potatoes," "Dracula" (the Hypocrites), "The Addams Family" (Mercury Theater), and three summers as a featured artist with "The Fly Honey Show" (the Inconvenience). TV/Film: "Work in Progress" (Showtime), "Soundtrack" (Netflix), "Alex/October," "Kappa Force," "Two in the Bush." She is a member of SAG-AFTRA. 

In addition to Walker, "The Devils Between Us" cast consists of Chris Pendry, a Lawrence senior, as George; Isabella Lind, a Solvang, Calif. junior, as Barb;, and Jordan J. Ray, a Topeka sophomore, as Hunter. The creative team is rounded out by KU students Cassandra Ludlum, a Topeka third-year student, as costume designer; MacKenzie Needham, an Andover senior, as lighting designer; Marzieh Ashrafian, a PhD student, as dramaturg; and India MacDonald, a Topeka junior, as the stage manager. In addition to Cook, a professional freelance intimacy choreographer, the production also features Dave Wanner, Scene Shop Manager in the Department of Theatre & Dance, as scenic designer; and Kayleigh Shaffer, a recent alum and freelance lighting and sound technician, as sound designer.