Everybody Opens Dec. 2, Promises Audience Participation, Dark Comedy
---
A play opening soon at the University of Kansas explores a topic that's become ever-more relevant in recent years: death. Everybody, a production of the University Theatre within the Department of Theatre & Dance, offers opportunity for community members to mourn, laugh at, and reflect on the show's absurdity and the tragedy of dying. 
With quick, offbeat humor and contemporary dialogue, the play by Pulitzer Prize-nominated playwright Branden Jacobs-Jenkins shines a spotlight on that terrifying, illusive question: what would you do if Death called? Everybody is a contemporary, experimental adaptation of the classic morality play Everyman. The production is directed by PhD candidate Timmia Hearn DeRoy. 
Performances are Dec. 2, 3, 6, 7, and 8 at 7:30pm and Dec. 4 at 2:30pm in the William Inge Memorial Theatre at Murphy Hall. Tickets can be reserved at Everybody, by calling 785-864-3982, or in person Monday-Friday noon-5pm at the Box Office in Murphy Hall.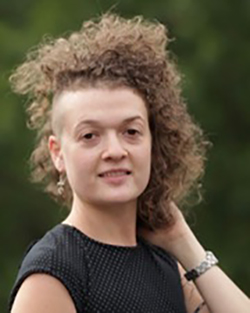 "This production is a love letter to our community. An opportunity to collectively generate space for healing in the midst of ongoing trauma. From Covid-19 to international security instability, from the challenges of climate change to deep-rooted inequities, fears and realities of Death lurk at every corner," DeRoy said. "Laughter and reflection bring us closer to each other and allow us to grapple with our fears and find strength in each other. Thank you for joining us on our journey." 
Each night the audience will choose which member of the ensemble cast will face Death and who will play the people, things, and morals which made up their life. Breaking the fourth wall and inviting audience participation, Everybody reflects on religious belief, confronting your existence, the imperfection of humanity, and on why we form connections to people or possessions. What does it mean when a friend says "I would die for you"? – yeah, that's brought up in this script too. 
A panel discussion follows the Sunday matinee in Murphy Hall Rm 341, across the hall from the Inge Theatre. The panel will feature KU alum Nathan Bowman, a theatre history and religious studies expert and Benedictine College faculty member, and Timmia Hearn DeRoy, director, and Brad Mathewson, dramaturg. 
A talkback with the cast follows the Wednesday, Dec. 7 performance. The cast shares their experiences with the play's content and themes in the Inge Theatre.
DeRoy is a theatre and film developer and gender rights activist. She was a founding member of the Trinidad and Tobago PRIDE Arts Festival, former Director of the School for the Arts at the Trinidad Theatre Workshop, the Caribbean's oldest theatre company, and former Marketing Manager at the CaribbeanTales International Film Festival. She has directed and developed numerous productions in Trinidad and Tobago, including An Echo In The Bone by Dennis Scott (2012) and A Midsummer Night's Dream by William Shakespeare (2013/14). She has also worked in production and casting in film and television in both Trinidad and Tobago and Toronto, Canada. More recently DeRoy directed 10,000, A One-Woman New Play Development by Victoria "Tori" Smith at the Lawrence Arts Center. DeRoy's research focuses on how we tell stories and utilizes social justice, disability justice, anti-colonial, and transnational feminist frameworks. She holds a B.A. in theater studies from Yale University. You can check her work out online at Timmia Hearn DeRoy.
The creative team is rounded out by Taiane Lacerda, a second-year MFA student from Florianopolis, Brazil, as scenic designer; Rana Esfandiary, Assistant Professor of Scenography, as costume designer; Quintin Castro, a senior theatre design major from Larned, as hair and makeup designer; Hazel Youngquist, a senior theatre performance major from Perry, as lighting designer; Brad Mathewson, a senior English and theatre in culture and society double major from Topeka, as dramaturg; and Connor Maloney, a sophomore theatre design major from Wichita, as stage manager and assistant director.
The audience will vote who portrays the character of Everybody as selected from the pool of ensemble members playing Somebody. Somebodys are ShonMichael Anderson, a first-year student majoring in theatre and voice from Wichita; Zoe Arp, a first-year student majoring in political science from Overland Park; Diego Rivera-Rodriguez, senior theatre performance and film and media studies double major from Lawrence; Lauren K. Smith, a senior theatre performance major from Topeka; and Jayden Warf, a first-year student majoring in theatre from Winchester, Vi. Additional cast members are Olly G. Mitchell, sophomore theatre in culture and society major from Maize, as usher/God/understanding; Sergio L. Alicea, a PhD student from San Juan, Puerto Rico, as Death; Hannah Gassman, a junior theatre and voice major from Deerfield, Ill., as Girl/Time and Mickey James Pluta, a senior theater performance and economics double major, as Love. Layla English, a first-year theatre performance major from Kansas City, serves as the understudy for all non-Somebody parts.