Feel the Noise! Play about Air Guitar Opens KU Theatre Season
---
"Airness," a comedy written by Chelsea Marcantel, will rock the William Inge Memorial Theatre at the University of Kansas. This peek into the lives of air guitar contestants in competition is directed by Jonah Greene, doctoral student in KU's Department of Theatre & Dance.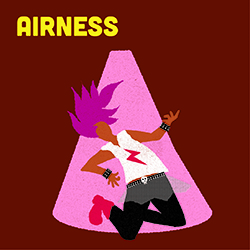 Tickets are on sale now for performances Oct. 1-7. Purchase tickets online at the KU Theatre website, where patrons can find more about the KU Theatre & Dance 2021-22 season. Patrons may also call the box office at 785-864-3982. This production will be live and in-person. Per KU guidelines, masks will be required for audience members.
Through air guitar competition, contestants discover their authentic selves in big hair, studded wristbands and ripped T-shirts. "Airness" promises comradery and escapism as the spotlight shines on the lifestyle of the air guitarists and the culture surrounding the competition. KU's production of "Airness" celebrates performing for the joy of performing and promises glorious ridiculousness, Greene said.
"It's the return to live theatre that we've all been craving. It's a show about the pure, unbridled joy of live performance, the visceral experience of dancing like you're alone in your room, but instead you're on stage in front of a screaming crowd. It's also about the transcendent nature of creating something out of nothing," he said. "There's a simple beauty in these characters' ability to suspend disbelief and launch themselves into the world they wish to be in. Most of the characters don't make money or achieve fame through air guitar. They do it to find themselves and their tribe."
The cast was coached by Beth "CindAIRella" Melin, a Kansas City-based air guitarist and three-time U.S. national finalist who competed in the Air Guitar World Championship in 2015.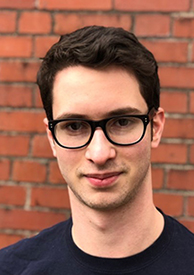 "Air guitar is harder than it seems. I'm most proud of how the cast has approached the show with a positive attitude. They are working hard to tell the story truthfully but are also excited to simply entertain our audiences. We've all had so much fun working together, and I know our audiences will feel that same joy," Greene said.
Greene is also a graduate teaching assistant at KU. The Fayetteville, Arkansas, native's directing credits include "Mr. Burns, a Post-Electric Play" (3P's); "Thom Pain (Based on Nothing)" (Independent Production); "Lungs" (Tufts University Capstone); "[title of show]" (Torn Ticket II); and "Godspell" (Torn Ticket II). He has also worked with SpeakEasy Stage Company, TheatreSquared, JELLY Theatre Workshop, New Threshold Theatre, The Hatchery and Arts Live Theatre. Greene was recently honored as the department's Ambrose Saricks Family Scholarship Recipient.
The creative team is led by KU faculty members Kelly Vogel, resident artist/academic associate, as scenic designer; and Rana Esfandiary, assistant professor of design & technology, as costume designer. KU staff member Alex Weston, the department's technical director, is the sound designer, with senior Nicole McKinney on as lighting designer. Doctoral student Jenny Sledge Harris is the dramaturg, and recent KU Theatre graduate Bailey Dobbins is the stage manager.  
"Airness'" cast members are Lane Barrette, a sophomore in theatre performance and political science from Basehor, as D Vicious; Haley Cogbill, a sophomore in theatre performance and English from Olathe, as announcer/Sprite executive; Elijah Olson, a senior in theatre performance from Hiawatha, as Shreddy Eddy; Diego Rivera-Rodriguez, a junior in theater performance and film & media studies from Lawrence, as Golden Thunder; Lauren K. Smith, a junior in theatre performance and art history from Topeka, as The Nina; Asher Suski, a junior in theatre performance and linguistics from Ames, Iowa, as Facebender; and Jillian Wilson, a senior in theatre performance from Chanute, as Cannibal Queen.