H.M.S. Pinafore, a Comic Class Clash that Tugs at Your Heartstrings
---
Co-produced by KU's University Theatre, School of Music, and Symphony Orchestra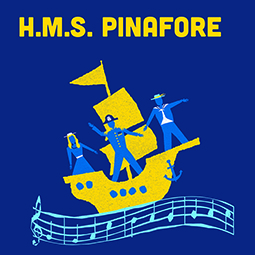 Love doesn't conform; it gets salty, particularly in H.M.S. Pinafore, or The Lass That Loved a Sailor as it is also called, where W.S. Gilbert and Arthur Sullivan use satire to poke fun at the British class system through the lens of a love story. 
This co-production with KU School of Music concludes the University Theatre's 2021-22 season. The comedic opera features the KU Symphony Orchestra, is stage directed by Professor of Voice and Opera, John Stephens, and is designed by faculty and a graduate student in the Department of Theatre & Dance.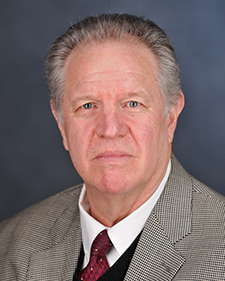 Crafton-Preyer Theatre stage will be transformed, taking audiences into the lamplight nautical night and also to dock where Little Buttercup comes aboard with her secret. "In Pinafore, as with all the Gilbert & Sullivan operas, the audience is treated to an evening of beautiful and lively music, set to some of the cleverest lyrics in the English language. The story shows that life holds secrets we certainly don't anticipate. As Buttercup sings 'Things are seldom what they seem …'  Among others, we meet the class-conscious and slightly neurotic Captain; the opportunistic Sir Joseph Porter, First Lord of the Navy; and Dick Deadeye (my personal favorite) who sees through the hypocrisies of his society but is shunned due to his personal appearance." 
H.M.S. Pinafore plays April 29, May 3 and 5 at 7:30pm and May 1 at 2:30pm in Murphy Hall. Purchase tickets online at H.M.S. Pinafore, by calling 785-864-3982, or by stopping by the University Theatre box office in Murphy Hall, M-F noon-5pm. All patrons are highly encouraged to wear a mask while attending performances.
The creative team is rounded out by Dennis Christilles, Associate Professor of scenography, as scenic designer; Kelly Vogel, Resident Artist/Academic Associate, as costume designer; Lindsay Webster, a MFA student in scenography, as lighting designer; Francis Ho, a DMA in orchestral conducting from Nashville, Tenn., as conductor; Tara Burgat, a student from Spring Hill, as choreographer; and Bailey Dobbins, a recent KU graduate, as stage manager.
Many of the roles are double-cast to give students more opportunities to contribute to this production, Stephens said. Individuals' performance dates can be found on H.M.S. Pinafore. The cast consists of Bethany Dart, a graduate student in the School of Music from Bellevue, Neb., and Lauren Newstrom, a junior music education major from Omaha, Neb., as Josephine; Sarah Curtis, a second-year DMA in vocal performance, and Deanna Eberhart, a first-year MM in voice and church music from Kansas City, Mo., as Little Buttercup; Daniel J. Loganbill, a DMA in vocal performance and church music, as Sir Joseph; Will Simpson, a graduate student in the School of Music from Prairie Village, as Captain Corcoran; Zack Devin, a second year DMP in music education-vocal pedagogy from Robinson, Ill., as Ralph; Eli Panek, a senior music major from Kansas City, Mo., as Dick Deadeye; Clara Boyd, a senior voice performance and pre-medicine double major from Moran, as Cousin Hebe; Yoseph Park, a MM in opera, as Boatswain; and Reed Schenkel, junior vocal performance major from Lawrence, as Carpenter. Additionally the women's ensemble consists of Olly Mitchell, first-year theatre in culture and society major from Maize, Elizabeth Webster, a sophomore music therapy major from O'Fallon, Mo., Natalie Sledd, a first-year vocal performance major from Kansas City, Mo., Morgan Goeser, a sophomore speech, language, and hearing major from Lawrence, Meg Schiliro, a junior theatre and voice major from Elmhurst, Ill., Hannah Gassman, a sophomore voice and theatre major from Deerfield, Ill., Arianna Stein, a senior voice performance major from St. Louis, Mo, and Stephanie Born, sophomore vocal performance major from Wichita. And the men's ensemble consists of Benjamin Sawchak, senior vocal performance major from Gardner, Colin Bradt, junior theatre and voice major from Lawrence, Joshua Nobles, a junior music education major from Sibley, Iowa, Weston Curnow, a sophomore English and philosophy double major from Olathe, Christian Laredo, a music education major from East Peoria, Ill., and Dmitry Tyshlek, a junior business analytics major from Olathe.