KU Theatre Opens Its Season with Collective Rage: A Play in Five Betties
---
A Story of Self-Discovery, Empowerment, and the Effects of the Patriarchy in Contemporary Society
The University Theatre will open its 2023-24 season with a play that unapologetically dives into taboo topics, dips into a revolution happening around the globe, and features puppetry to help tell the story. A provocative exploration, Collective Rage: A Play in Five Betties by Jen Silverman will be performed in the intimate setting of the William Inge Memorial Theatre at Murphy Hall Oct. 6, 7, 10, 11, and 12 at 7:30pm and Oct. 8 at 2:30pm. It is directed by Marzieh Ashrafian, a PhD student in the Department of Theatre & Dance. 
Many of the Betties' stories combat age-old constructs of exhaustion and repression through a diverse array of modern feministic and queer viewpoints. A Shakespearean play within a play and bluntly feminine puppetry advances the narrative and conveys a powerful, courageous transformation in this dark comedy, which premiered in 2016 and moved Off-Broadway in 2018. The author and playwright has had her plays performed nationally and internationally, along with a forthcoming debut novel.  
Owners of Simple Mischief Studio Grace Townley and Spencer Lott, who is also a KU Theatre alum, are serving as guest artists on the production and have been working since early summer designing three puppets critical to the action, including the final scene. Simple Mischief is a creative studio co-founded by Townley, an artist, and Lott, a Sesame Street puppeteer. The company builds puppets for film and TV and teams up with local creative partners, like The Rabbit hOle. Credits include A Beautiful Day in the Neighborhood (2019, Tristar) and SpongeBob's Pineapple Playhouse (2020, Nickelodeon), among others. Their participation is made possible in part by the Department's Ronald A. Willis Visiting Scholar/Artist Fund. 
A talkback with the cast and dramaturg will follow the performance Oct. 10 in the theatre. Tickets are available for purchase at Collective Rage, by calling 785-864-3982, or in-person at the box office in Murphy Hall Monday-Friday noon-5pm.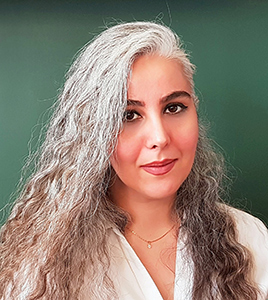 "In the heart of the Women's Liberation Movement, where the battle for freedom and equality raged, I found my muse. My homeland, Iran, bore witness to a stirring revolution. Though movements for change have arisen worldwide, the shackles of patriarchy persist. No longer do we need metaphors; it's time to address taboos and injustices candidly and sincerely," Ashrafian said. "Our five characters embark on a transformational journey, seeking to change the world by first changing themselves. Realistically, we may not revolutionize the world with a play. However, it is my sincere hope that we can share this story with our spectators, igniting conversations and inspiring change."
Ashrafian is an accomplished Iranian theatre scholar and director with an M.A in Puppet Theater from the University of Tehran. Currently a third-year PhD student at the University of Kansas, her expertise encompasses the semantic dimensions of cyborg representation on stage, Middle Eastern theatre, feminism, and the intricate interplay of trauma and identity within the theatrical realm. Her journey led her to establish and lead as Director of the Theatre Department at the SGHK Institute in Iran. Her directorial ventures, such as There was a Home, Dream of Shoe, Wolf and Sheep, Him,and The Wall, have earned acclaim at national and international festivals. Notably, Ashrafian chaired the research committee for The Third Children And Young Adult Playwriting Festival in Isfahan 2021. 
Additional creative team members are Sara Baird, a theatre MFA student, and Dennis Christilles, Associate Professor of Scenography, as scenic designers; Taiane Lacerda, a third-year MFA student in scenography from Florianopolis, Brazil, as costume designer; Riley Sansbury, a junior theatre performance and psychology double major from Houston, Texas, as lighting designer; Hana Rose North, a sophomore theatre design major from Salina, as sound designer; Tiffani Brooks Hagan, PhD student in theatre studies, as dramaturg and intimacy director from Spartanburg, S.C.; Alireza Mirzaeinezhad, MFA Student in Expanded Media at the Department of Visual Art, as video designer; and Kennedy Tolar, a sophomore theatre major from Tulsa, Okla., as stage manager.  
The cast members are Enya Sullivan, a first-year theatre performance major from Scottsdale, Ariz., as Betty 1; Natalie Loftus, a theatre and English double major from Hays, as Betty 2; Maya Perez, a senior film & media studies major, as Betty 3; Jayden Warf, a sophomore theatre performance major from Winchester, Va., as Betty 4; and Mak Mendelsohn, a fine art and psychology double major from Hayward, Calif., as Betty 5.