The Labyrinth of Desire, a Cloak-and-Dagger Rom-Com, Plays at KU Theatre
---
This October, fans of the performing arts can escape into a breezy, lighthearted play produced by the University Theatre within KU's Department of Theatre & Dance. The Labyrinth of Desire by Caridad Svich offers comedic and romantic hijinks as a multitude of suitors vie for the love of a clever and reluctant young woman named Laura.  
Performances are in the William Inge Memorial Theatre at Murphy Hall. The Labyrinth of Desire will play Oct. 14, 15, 20, 21, and 22 at 7:30pm and Oct. 16 at 2:30pm. Tickets are available for purchase on the Ticketing Web page, by calling 785-864-3982, or in person at the box office in Murphy Hall Monday-Friday noon-5pm. Additionally, the Oct. 21 performance will be livestreamed. Purchase livestream tickets via KU Theatre's Streaming page. The play serves as KU Theatre & Dance's 2022-23 season opener.
The play relies on cloak-and-dagger intrigue reminiscent of 16th Century Spanish commedia. Svich has freely adapted and translated the script from the play La Prueba de los Ingenios by the prolific Spanish dramatist Lope de Vega.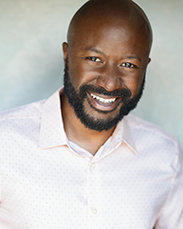 The production is guest directed by Paris Crayton III of New York City. The Labyrinth of Desire asks, "what compels us to hide our true self" and "to what lengths will we go to satisfy desire?"
"Labyrinth explores desire from many different angles: How we fall in and out of love and what it looks like when the person we thought we desired is only a 'steppingstone' to getting closer to who our heart truly yearns for," Crayton said. "Working at KU has been a blast. The students are a joy, and they work harder than most professionals." 
Crayton's staging involves a lot of movement, which makes KU's production of the play unique, he said. Patrons can expect touches of the anachronistic with props especially.  
This is the second time Crayton has been in residency at KU. His play Chasing Gods was staged here in summer 2019, a collaboration between KU and NewYorkRep.  
Crayton is an award-winning playwright, actor, director, and educator. He was one of ArtsATL "30 under 30" and Atlanta Journal Constitution's "Artist to watch." Creative Loafing named him 2014's "Best Local Playwright." Critics have called him "a powerful dramatist" and praised him as "One of the most important playwrights of our time." His directing credits include Crumbs from the Table of Joy at DeSales University, Chasing Gods at Davidson College, Ma Rainey's Black Bottom at Pure Artistry, Mama Bear at Out of Box Theatre, and more. He is a member of the Actors' Equity Association. Please visit Paris' website for more info. 
In addition to Crayton, the creative team members are Gabrielle Smith, a 2021 graduate of the Department and freelance actor from Lansing, as associate director; Lindsay Webster, a third-year MFA student in scenography from Novi, Michigan, as costume and scenic designer; Kelly Vogel, resident artist/academic associate, as lighting designer; Renee Cyr, a PhD student in theatre, from Lawrence, as dramaturg; and Kaitlin Nelke, a freelance stage manager from Kansas City, Mo, as stage manager.  
The cast members include Betsy Armstrong, a senior majoring in film production, as Florela; Cooper Holmes, a first-year student majoring in theatre performance from Overland Park, as Ricardo; Farrukhbek Varisov, a senior majoring in theatre performance and political science from Tashkent, Uzbekistan, as Alejandro; Marek Skeeba, a first-year student majoring in theatre performance from Lecompton, as Camacho; Allison FitzSimmons, a sophomore majoring in behavioral neuroscience from Lincoln, Neb., as Laura; Promita Dey, a junior majoring in aerospace engineering from Overland Park, as Finea; Myles Hollie, a sophomore majoring in theatre performance from Richmond, Va., as Paris; Asher Suski, a senior majoring in theatre performance and linguistics from Ames, Iowa, as Estacio; and Basia Schendzielos, a junior majoring in French from Shreveport, La., as the Duchess of Ferrara.