Measure for Measure Kicks Off Spring Season at KU Theatre
---
Timeless Shakespearean classic urges audiences to judge for themselves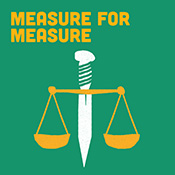 For its spring season opener, the University Theatre stages Measure for Measure by William Shakespeare and sets it in the "Wild West" of Kansas. It plays Feb. 25-27 and March 4-6, with a simultaneous livestream available Feb. 25, 27 and March 4.  
Tickets for in-person performances are on sale at Measure for Measure, by calling 785-864-3982, or visiting the University Theatre Box Office, noon to 5pm Monday through Friday. Patrons can tap into the livestreamed performances link on the website to purchase stream access.  
Hallowed for its ambiguity, this "problem play" challenges the audience through silence and sex, chuckles and tricks. Expect the disguise, mistaken identity, and issues of morality fueling speeches commonly found in Shakespeare's canon. From power brokers to delightful comedic characters, the classic explores themes around love, hypocrisy, merciful justice, and righteousness. Themes of justice are heightened as laws suddenly become more strictly enforced.
Measure for Measure will be performed in the William Inge Memorial Theatre at Murphy Hall. Under the guest direction of Gabriel Vega Weissman, the creative team has situated the story in the fictional cow town of Vienna, Kansas, right after prohibition is ratified.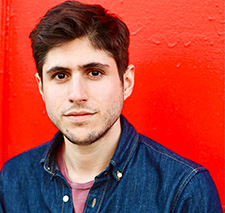 "We are living in complicated and confusing times. Few plays explore the contradictions within society, government, and morality as Shakespeare's Measure for Measure. Measure is the play for this moment; it is one of Shakespeare's "problem" plays. It is ambiguous and poses questions, forcing those who encounter it to make their own judgments and draw their own conclusions. While we investigate themes such as hypocrisy, forgiveness, justice, and mercy – there is also much fun to be had. Shakespeare includes many of his classic tricks and tropes: mistaken identity, trickery, and an array of wild characters including constable Elbow, clown Pompey, Mistress Overdone the bawd, and an executioner named Abhorson. Setting this production in an 1880s Kansas cowtown keeps the story close to home while allowing many of its complex themes to fully blossom," said Vega Weissman.;
Gabriel Vega Weissman is a professional director, playwright, and educator. His directing credits include Guards at the Taj (Central Square Theatre, Cambridge MA; Boston Globe Top 10 Theatre of 2018), Charles Cissel's MUST (Produced by Bruce Willis, Theatre at St. Clements NYC); Dishwasher Dreams (Castillo Theatre NYC) and Making the Move (Edinburgh Festival Fringe UK) as well as work directed for and developed with companies around the United States including New York Theatre Workshop, Atlantic Theater Company, American Repertory Theatre, Williamstown Theatre Festival, San Diego REP, and National Black Theatre. He has served as associate director on more than 25 shows including Broadway productions of Hangmen (written by Academy Award winner Martin McDonagh), China Doll (world premiere by David Mamet starring Al Pacino) and the 2016 Tony Award-winning revival of Long Day's Journey Into Night. Vega Weissman is an alum of the Drama League Director's Project, Lincoln Center Directors Lab, Manhattan Theatre Club Directing Fellowship, and Williamstown Theatre Festival Professional Training Program. He is a New York Theatre Workshop Usual Suspect. Gabriel and Brian Reno's collection of short plays, Loose Canon, and their adaptation, Aristophanes' The Birds, are licensed and published by Dramatists Play Service, Inc. He is a member of the Stage Directors and Choreographers Society. Read more at gabrielvegaweissman.com.
Rounding out the creative team are Taiane Lacerda, a first-year MFA student in scenography from Florianopolis, Santa Catarina, Brazil, as scenic designer; Lindsay Webster, a second-year MFA student in scenography from Novi, Michigan, as costume designer; Ann Sitzman, technical coordinator for the Department, as lighting designer; Kayleigh Shaffer, a recent alumna and freelance lighting and sound technician, as sound designer; Aubrey McGettrick, a recent alumna, as voice/text coach; and Jake Dutton, a recent alumnus and freelance stage manager and designer, as stage manager.  
KU's "Measure for Measure" cast members are Jeremiah Coleman, a junior theatre performance major from Wichita, as Duke; Sam Stapp, a senior business administration major from Shawnee, as Angelo; Basia Schendzielos, a sophomore French and business administration double major from Shreveport, La., as Escalus; Lauren Smith, a junior theatre performance and history of art double major from Topeka, as Elbow and Mistress Overdone; Anna Tracy, a senior theatre performance and theatre design double major from Wichita, as Abhorson and Froth; Chris Pendry, a senior theatre performance and film production double major from Lawrence, as Provost; Mickey James Pluta, a senior theatre performance and economics double major from Broomfield, Colo., as Friar Peter; Zhanhong (Steve) Li, a sophomore film and media studies major from Brooklyn, New York, as Messenger; Asher Suski, a junior theatre performance and linguistics double major from Ames, Iowa, as Claudio; Jordan J. Ray, a sophomore theatre performance major from Topeka, as Lucio, Nicole McKinney, a senior theatre performance and communications double major from Tigard, Ore., as Mariana and Francisca; Claudia Sprague, a senior theatre performance major from Rose Hill, as Juliet and Second Gentleman; Bridget Olson, a sophomore theatre performance major from Forest Lake, Minn., as Pompey; Caleb Bishop, a senior theatre performance major, as First Gentleman and Barnardine.